If you are a regular user of WordPress, I am sure you will agree that WordPress themes are always useful. In fact, if I say that WordPress themes are a great way of learning, it won't be a wrong statement. You can learn about designing and coding, both from WordPress themes.
Today, in this article, we have carefully selected some of the best HTML5 WordPress themes. These themes will be very helpful for you as a designer or even as a developer. These free HTML5 WordPress themes are not only visually appealing but they are very professional to look at as well. It takes a lot of time to search for nice WordPress themes and compiling a list wasn't that easy however, we have managed to do it for you guys. Let us take a look at HTML5 themes with a lot of variety. Some themes are vibrant; some are simple, professional and very classic.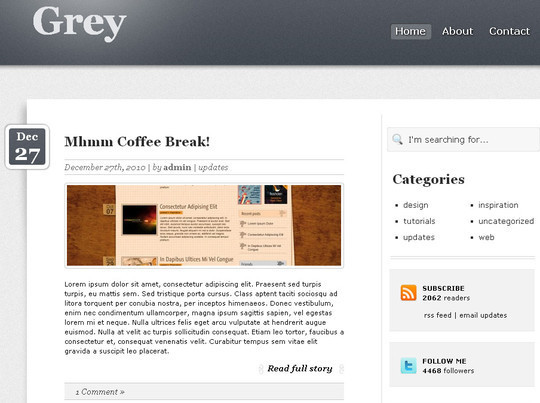 If you are looking for an elegant theme, Grey is the one for you. The design is totally out of the box yet generic enough to be used for all sorts of blogs. This good looking WordPress theme has a lot of great features to offer. You can enjoy features like built-in Twitter and Flicker Stream, widgets ready, author box and it is also SEO oriented. The list does not end here and you can find a lot of great features.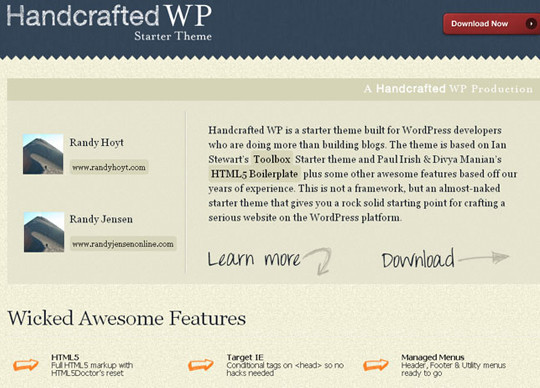 This is a perfect starter theme for any WordPress developer whose work is not limited to blog building. Some of the awesome features of this theme are full HTML5 markup, managed menus, dashboard widgets, post formats and a lot more. Check details to learn more about it.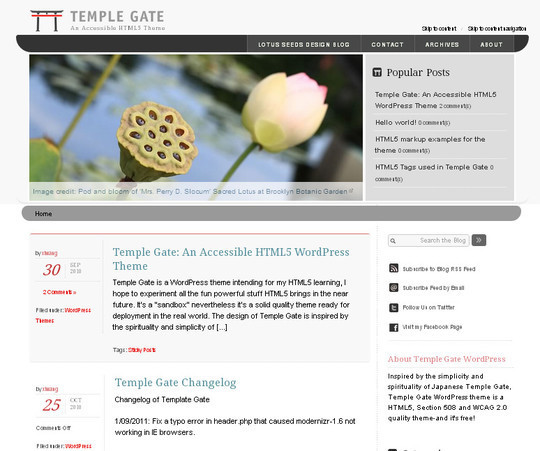 As the name suggests, design is an inspiration from Japanese template gate. This is again a free HTML5 WordPress theme with features like multilingual translation, sticky post, banner section and a lot more.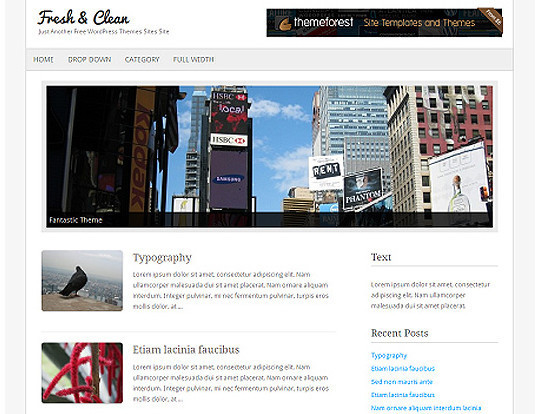 This theme is absolutely perfect for any kind of blog or portfolio related sites. As the name suggests, the design follows minimalistic theme however, the whole look is very elegant. This too has a lot of features to offer so why not download it and see for yourself.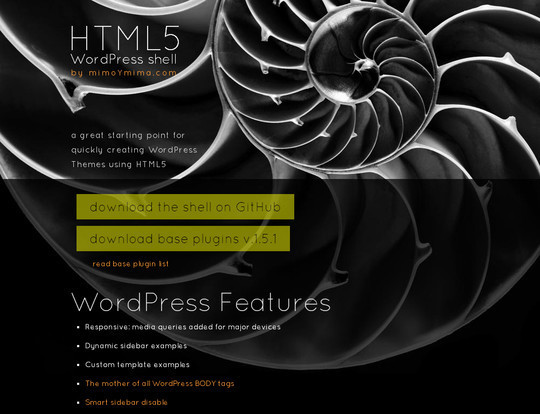 If you are looking for a WordPress theme that is responsive with dynamic sidebar examples and custom template examples, this one is for you. It has HTML5 reset stylesheet, iPhone detection, clearly commented code a lot more.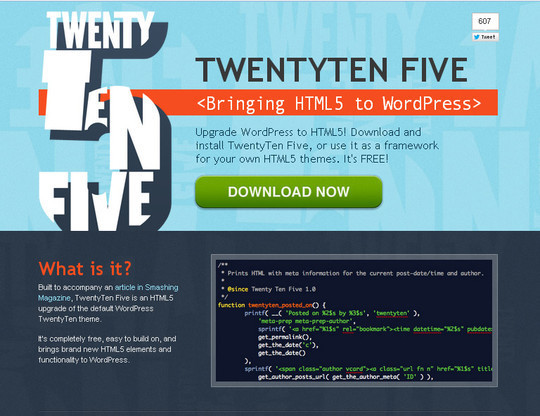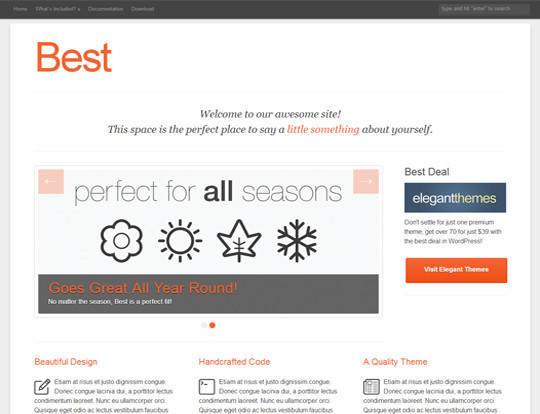 Well this one if one of my favorites because it offers you four different page templates so you have a lot of options. Apart from this, it has a specifically designed index.php page for showcasing your blog, searches and of course archives.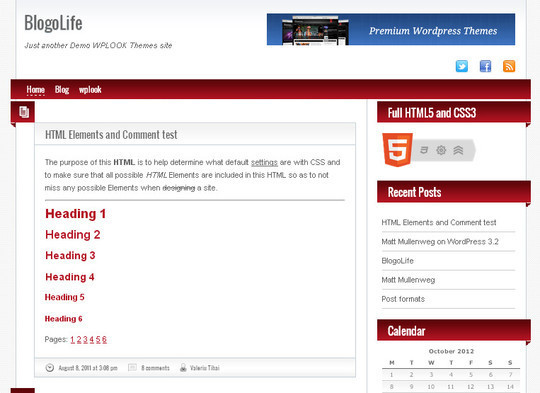 Want to enjoy post formats? Download blogolife and start enjoy post formats as this one will offer you a wide range of post formats.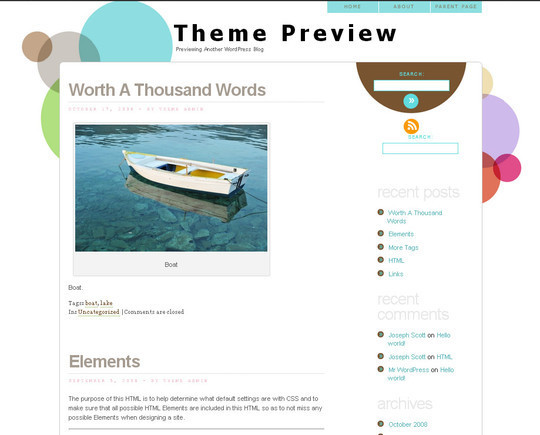 This theme is pretty much simple and clean and utilizes both CSS3 and HTML5 properties. This works fine with the updated versions of Firefox, chrome and IE 6, 7 and 8.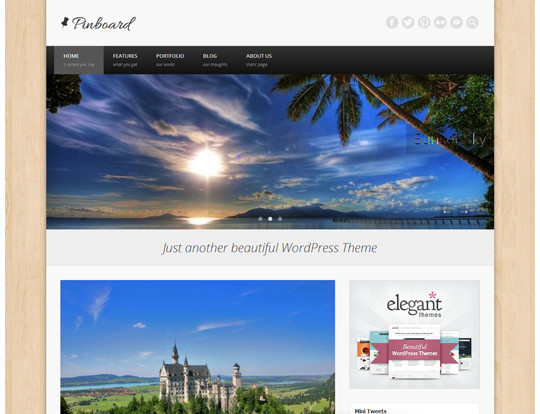 This is a free responsive WordPress theme with a slider. The best thing about this theme is its responsive layout. Also, it focuses a lot on highlighting your blog's content. Also, it has a lot of ways to help you in displaying your sections elegantly.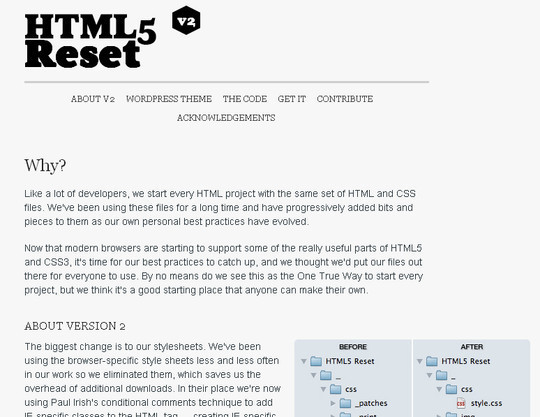 HTML5 reset theme is definitely a style-free theme specifically designed to help get your custom WordPress project off the ground. Yes, it too has some great features to offer so watch out for this one.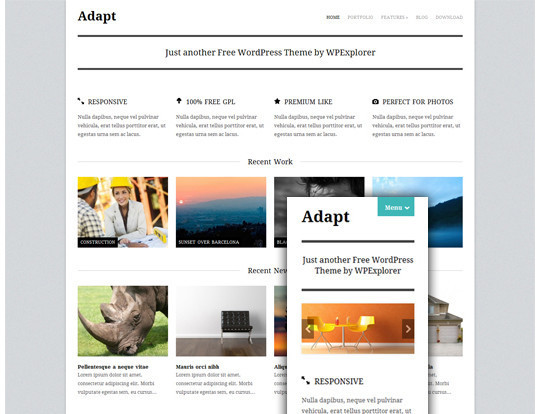 Again, this is one of those themes that have a simple yet elegant design, which is fully responsive. Setting it up is not at all a hassle as well. Adding your own content is way too easy so you are bound to fall in love with this.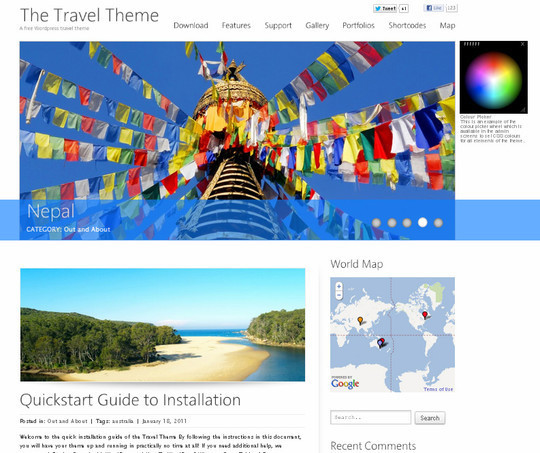 If your blog has anything to do with traveling, this theme is perfect for you. Now this does not mean that rest of the bloggers cannot use it. It is very good for posting images and videos.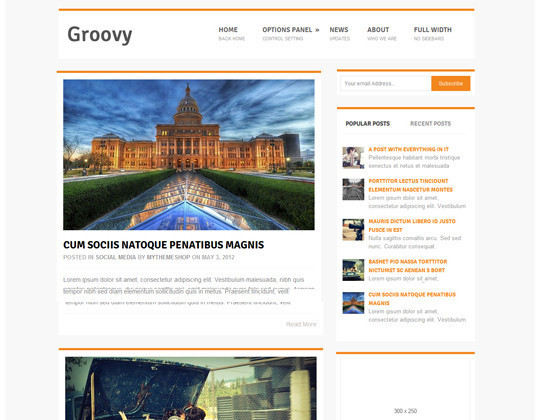 The layout of Groovy is just like a magazine layout and if you are looking for an elegant, simple yet attractive magazine WordPress theme, this one of perfect for you.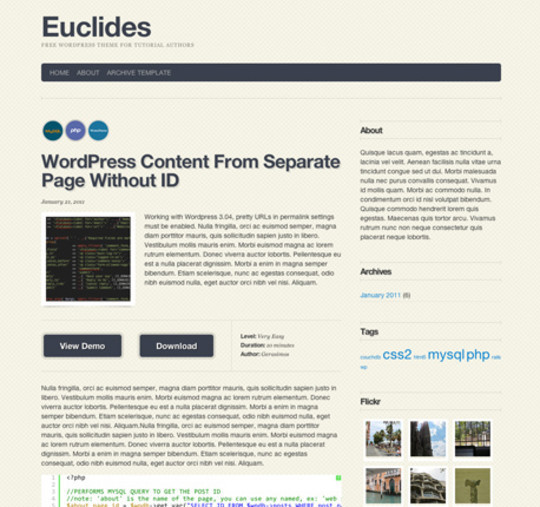 If you write tutorials online, you should definitely check out this theme. It will offer you color variations, cross-browser compatibility, custom menus and a lot more.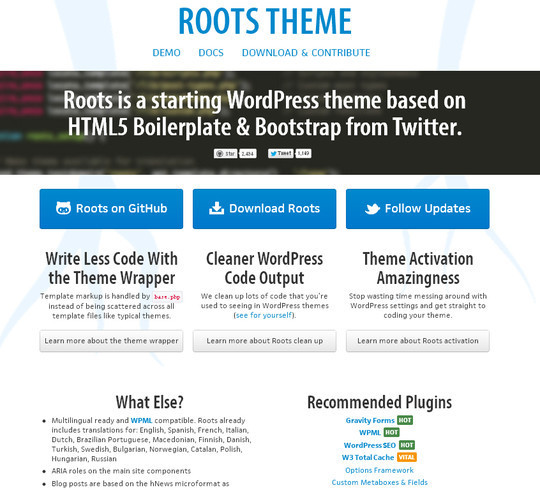 This is again a WordPress starter theme however it is based on HTML5 boilerplate and Bootstrap from Twitter. It is a great theme with some great features that every blogger should benefit from it.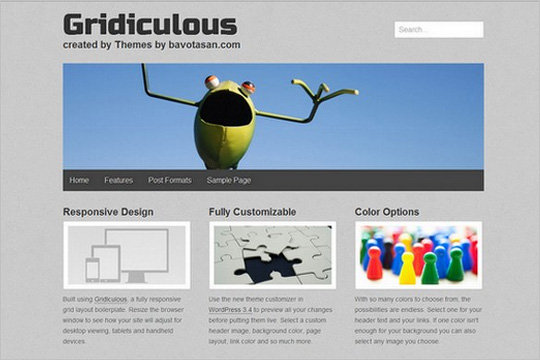 It comes with a responsive layout which makes it look good on almost any screen. Since the design is neat, clean and simple, it highlights the content properly. It also allows you customization and a lot of other great features.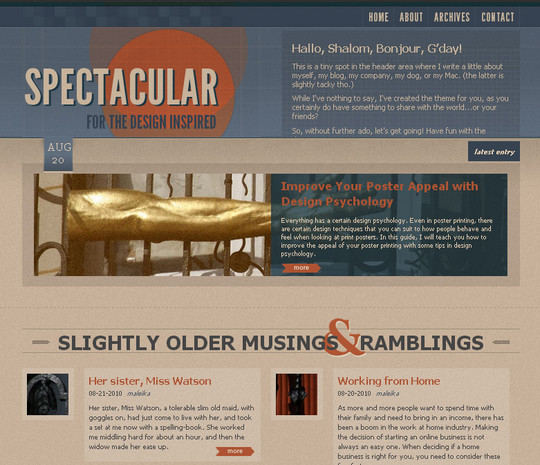 This theme comes into two flavors and two languages i.e., HTM 4.01, HTML5 and German, English respectively. You can download this theme for free and enjoy cross-browser support and a lot of other interesting features.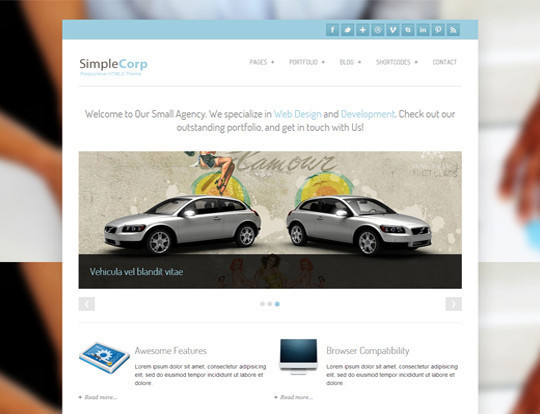 SimpleCorp, as name suggests is a simple yet elegant website perfect for corporate layouts. This theme is specifically optimized for a proper display on iPhone and iPad. You will be able to edit theme, select color of your own choice and do a lot more.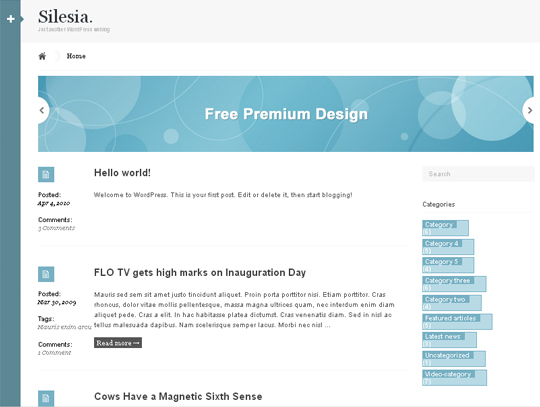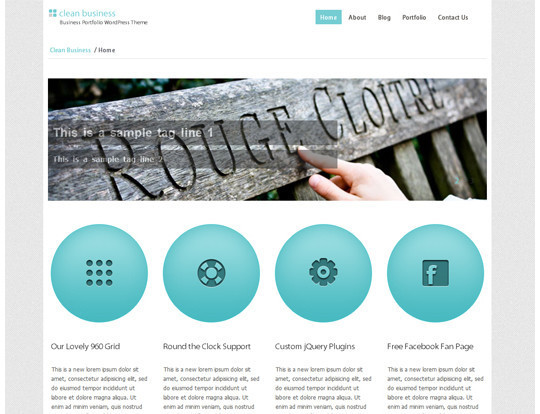 Again, one of those themes that is perfect for corporate usage. You get an outstanding homepage slide with this theme and transitions in this theme are awesome.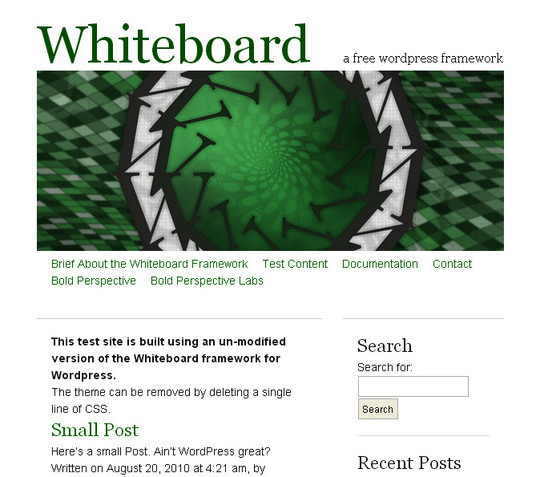 it definitely help developers in cutting back on their development time. This theme is Multi-lingual compatible, Lightweight and well-noted code, has Strong Search Engine Optimization and a lot more. Anyone developer should check this one out for sure.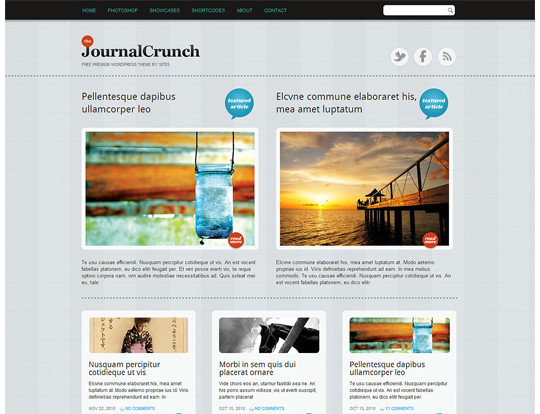 You will have to sign up in order to download this theme however, once downloaded you will have a perfect free premium WordPress theme.
Bones is definitely a WordPress theme for developers and do not confuse it with a Framework as it is not. It is a responsive theme and comes with LESS/Sass. You also get to have custom post types and all this is absolutely free.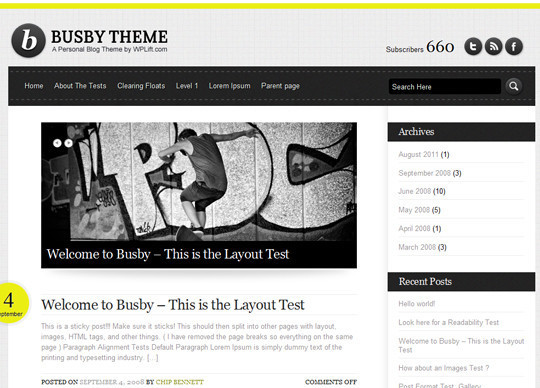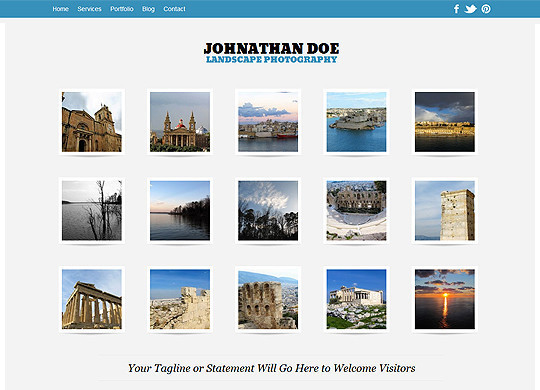 This theme is designed specifically for photographers and by keeping their requirements in mind. If you are a photographer, this WordPress theme will help you in having an effective web presence with no hassle.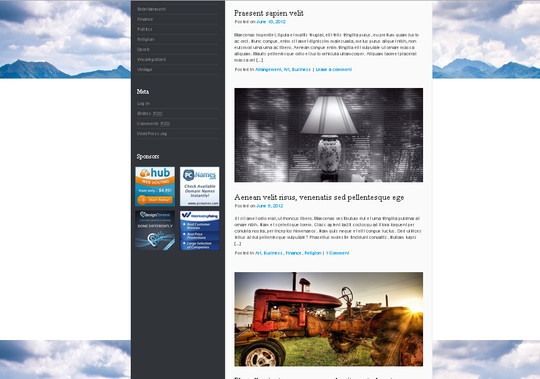 Kansas has a very subtle design and I would recommend it any blogger. You will get to enjoy some great features like custom menu, custom backgrounds and a lot more.